End of an Era

The Final Chapter of the Grady Hospital School of Nursing.
Heading into the 1980s, a bachelor's degree became the new standard for nursing education. With greater emphasis on college degree programs, the Grady School of Nursing lost its dominance in state and regional nursing education. Enrollment of new students declined greatly: between 1964 and 1980 enrollment at the school dropped from 500 to 99 students enrolled in the program.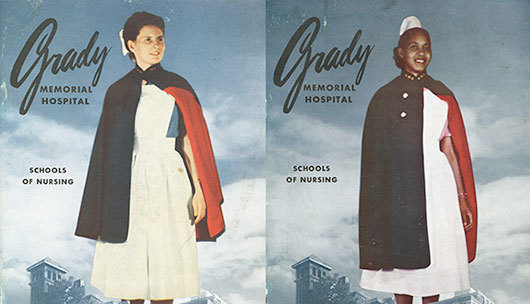 The combination of a shift in nursing education standards, high demands on funding, and declining enrollment lead Fulton-Dekalb Hospital Authority to vote to close the Grady Hospital School of Nursing when it graduated its last class in 1982. Despite the disappointment of closing its doors, the Grady School of Nursing's legacy was intact: in its eighty-four years, it had trained and graduated over 4,000 nurses.
An agreement was made with Georgia State University for the Grady Hospital School of Nursing program to be merged into Georgia State's School of Nursing. However, the program did not retain the Grady name, its tradition of uniforms and pins, or its culture of clinical requirements, student activities, or dorm life.
Oral Histories from Grady School of Nursing
Linda Wilson Oral History
Linda Wilson discussed the closing of Grady School of nursing.