1950s: Growth and Change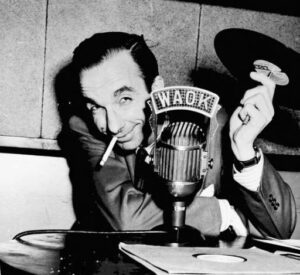 Zenas Sears purchased WAOK (Atlanta) in 1954. Though he was white, Sears was a lover of the blues and other African-American musical styles. WAOK was one of the first stations in the country to primarily focus on blues, R&B, and gospel music. WEAS (Decatur) and WSOK (Savannah) soon followed.
Many stations formed dedicated news departments in the 1950s. National news came in through teletype newswire machines from organizations like the United Press International and the Associated Press. Reporters also received information about local news items through sources like police and fire departments as well as tips from listeners. Some stations, like WRGA (Rome), developed reputations for news broadcasting from unusual locations – including the middle of a swimming pool and the inside of a navy hot-air balloon.