Racial Tensions on Campus in 1992
In 1992, there were a series of demonstrations by African American students and allies seeking urgent changes to racism on campus. The catalyst of these protests was the N-word being scrawled on a trash can near a fraternity office in the Student Center, but the protests quickly evolved to address the wider treatment of African American students at GSU. The protests attracted the attention of the Georgia State University community and the Atlanta press. Newly appointed President Carl Patton worked with protesters to address their demands.
The university held forums to discuss underlying racial tensions, but these forums did not lead to resolutions. Finally, on Friday, November 6, a group calling themselves "Concerned Students" issued a list of demands to the president and conducted a sit-in at his office. First on the list was "immediate formation of an African Studies Department." The president met with the students at length to discuss their demands.
Early the next Monday morning, about sixty Concerned Students held a sit-in at Sparks Hall, causing the building to be closed. Allied protesters moved to General Classroom (now Langdale Hall) in the afternoon, resulting in classes being cancelled. Reactions to the sit-ins varied and put the protesters at risk of disciplinary and legal action.
After the sit-ins, President Patton issued a response to the "Demands," indicating what actions or revised actions the university would undertake. In the following days, white Greek chapters and the college Republicans held sit-ins to protest the president's decisions. Leaders of the Concerned Students explained their points of view to the counter-protesters, an open University-wide meeting was held, and the Concerned Students met with the President again to discuss and clarify the actions the university decided to take in response to their demands.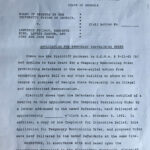 A formal proposal for the new African-American Studies Department was submitted to the Board of Regents in Fall 1993 and Charles Jones was named director. Regents approved the department in 1994. Records reflecting these protests and their resolution can be found throughout University Archives: in documents collected by the University Archivist during events, in the papers of colleagues who participated, in administrative decisions, and in official university publications. University Archives continues to collect items that reflect issues and events that challenge, inspire, and change the university. As part of a digital collection created to document campus responses to the civil unrest following the shootings of George Floyd, Ahmaud Arbery, and Breonna Taylor, University Archives obtained a letter signed by over two hundred Black faculty members and supporters responding to nation-wide protests over police brutality. The June 10th letter specifically cites the success of the 1992 student activists, who won concrete reforms at GSU, and emphasizes the vital role that activism plays in reshaping the university.