International Association of Machinists
Tom Talbot's first, short-lived attempt to organize railroad machinists happened in Florence, South Carolina. On May 5, 1888, nineteen machinists led by Tom Talbot founded the Order of the United Machinists and Mechanical Engineers, which would later be known as the International Association of Machinists and Aerospace Workers (IAMAW). Hoping to avoid detection from bosses at the East Tennessee, Virginia, and Georgia Railroad repair shops, who were hostile to organized labor, their clandestine meetings took place in a railroad pit. It was hidden from sight at a railroad yard located at the intersection of Hendrix and Windsor streets, just south of the state capitol.
Their purpose in organizing a union solely for machinists, instead of joining with the Knights of Labor, was to resist wage cuts, to provide insurance against unemployment, illness, and accidents, and to create an organization which could be publicly identified as having highly skilled and reputable craftsmen. On September 10, 1888 a circular was sent out to announce the founding and to recruit more members who were "honorable, industrious and sober habits," by which they meant white, male, and born in the U.S. citizens, who had good reputations and social standing.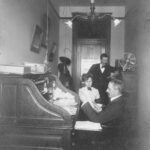 Despite the new union being secret, it spread beyond Georgia, partially thanks to the "boomers." Boomers were men who traveled the railway lines for work wherever they went. They would establish locals in these areas if there was not one already present. Within one year, there were 40 lodges; by 1891, there were 189.
The Southern Labor Archive received our first donation from the IAMAW in 1972, it was the records from the first local established, Lodge 1 in Atlanta Georgia. The Archive became the official repository for the entire IAMAW in 1992 and we now have over sixty IAMAW collections that are more than 900 linear feet of material!