Student & Youth Activism
The Bird also supported and reported on student activism in many different contexts. Since the paper itself had grown out of student anti-war protests, it maintained an interest in student activism throughout its history. Some of the topics covered were protest movements at Historically Black Colleges & Universities (HBCUs), predominantly white colleges and universities, and local and regional high schools. They also covered repression against student activities. For example, The Bird carried stories concerning the shooting of student activists by police at Jackson State College (now University) in May of 1970. This incident led to the deaths of two young men, Philip L. Gibbs, a student at Jackson State and James Earl Green, a 17-year-old high school student at Jim Hill High School. Another twelve students were injured.
Published on May 25, 1970, the article "Jackson State Slaughter" highlighted interviews from firsthand witnesses that lead to the death of two students and 12 others were wounded by the Jackson police force.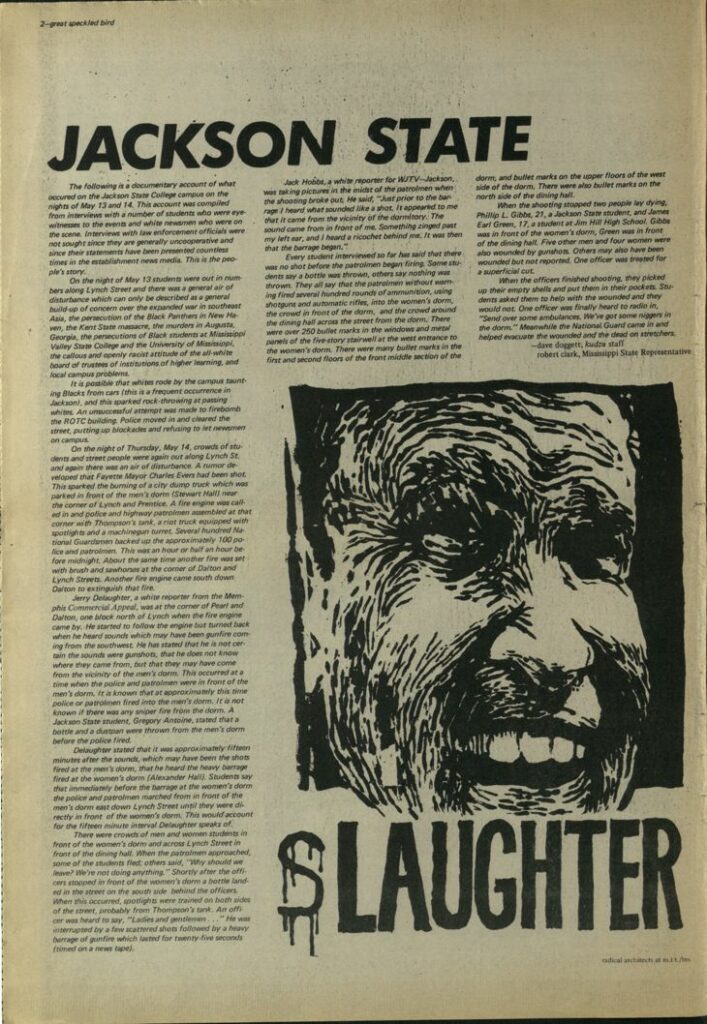 Every student interviewed so far has said that there "was no shot before the patrolmen began firing. Some students say a bottle was thrown; others say nothing was thrown. They all say that the patrolmen without warning fired several hundred rounds of ammunition, using shotguns and automatic rifles, into the
Women's dorm, the crowd in front of the dorm, and the crowd around the dining hall across the street from the dorm: There were aver 250 bullet marks in the windows and metal panels of the five-story stairwell at the west entrance to the women's dorm. There were many bullet marks in the first and second floors of the front middle section of the dorm, and bullet marks on the upper floors of
the west side of the dorm. There were also bullet marks on the north side of the dining hall. . .
. . . When the officers finished shooting, they picked up their empty shells and put them in their pockets. Students asked them to help with the wounded and they would not. One officer was finally heard to radio in, "Send over some ambulances. We've got some [racial slur] in the dorm." Meanwhile the National. Guard came in and helped evacuate the wounded and the dead onto stretchers.
-Dave Doggett, Kudzu staff
Robert Clark, Mississippi State Representative