Tracy O'Neal
Tracy W. O'Neal (1900-76) had a long career as a newspaper and commercial photographer in Atlanta. He was a longtime staff photographer for the Atlanta Georgian. When it ceased publication in 1939, he went to work for the Atlanta Journal, heading its photographic department from 1942 to 1952. He opened his own "commercial and photo news service" in 1952 and remained active as a commercial photographer until shortly before his death in 1976. He photographed events, people, and facilities for numerous corporations and nonprofits and was a skilled portrait and wedding photographer. His studio was located first at Auburn Avenue and Peachtree then in the Walco Sporting Goods Building on Pryor Street.
A Georgia native, O'Neal married Vera Williams, niece of the Lane brothers, photographers at the Georgian who started their own successful commercial photography company in Atlanta. The O'Neals had one son. Like his father, Tracy W. O'Neal, Jr. (1922-2003) was an active Shriner and Mason. Both O'Neals served as master of the W. D. Luckie Masonic Lodge in Atlanta and Tracy W. O'Neal, Sr. was the official photographer of the Yaarab Shrine Temple for many years.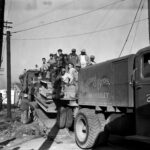 Commercial Buildings
Some photographs of the famous buildings that still exist today taken by O'Neal.