In the Darkroom
Welch used a variety of alternative photographic techniques in the darkroom to enhance his imagery and vision. Apart from the standard black and white print, his repertoire included albumen, cyanotype, and what he was most known for palladium printing.
Cyanotype is a photographic printing process that produces a cyan-blue print. A cyanotype is created by using two simple solutions, potassium ferricyanide and ferric ammonium citrate mixed with water separately. After the two are mixed together they are used to coat the printable material and then dried until ready for exposure. While you may use negatives to create a cyanotype, the most common form uses objects or shapes put directly onto the paper and then exposed to sunlight.
Welch's portfolio of cyanotypes showcase the former use by putting large format negatives onto the paper, and then exposing the images to sunlight. The images feature his personal garden and aptly entitled, "Patience" due to the labor intensive process it entails:
Platinum Palladium Printing
Welch's favorite type of alternative technique was platinum printing, also known as palladium or platinotype printing. Palladium printing differs from the standard black and white process, and the results are richer, warmer, with a reddish overtone. It provides the greatest spectrum of tonal ranges, and has a matte texture versus the glossier result of a gelatin print. In the 1940s platinum paper was no longer commercially being made, and was replaced with palladium, making the entire process cheaper.
The platinum print process depends on the light sensitivity of iron salts. A dried sheet of paper is coated with a chemical mixture, then a negative put directly in contact with the paper is exposed to light until the image emerges. Print exposure times can usually take up to 6 minutes or more, and can be processed outside by the sun. This allows the photographer to make prints without the need for a darkroom. The print is then washed in a series of weak acid baths to remove the remaining excess iron salts and yellow stains formed in the earlier steps, the last step being washed in water.
You can see the end results of this process by Welch in the images below: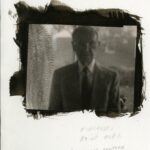 Palladium Exhibition
Postcard announcing photograph exhibition "Palladium Prints by Ernest G. Welch" at Callanwolde Fine Arts Center, Atlanta, Georgia, January 20 through February 17, 1995.