Fine Art Photography
Unlike photojournalism and commercial photography, fine art photography focuses on the vision of the artist. It is less representational and does not document an event like images found in a newspaper, and it does not have a purpose to sell a product like commercial photography. Photography as an art form can cover numerous subjects that focuses on techniques, visual lines and forms, or the artist themselves through portraiture.
Ernest G. Welch
A long-time resident of Atlanta, Ernest G. Welch earned a business degree from the Georgia Institute of Technology in 1928. He went on to serve in counterintelligence during World War II and landed in Normandy at Omaha Beach 10 days after the invasion. He was stationed in France, Belgium, Luxembourg and Germany, where he took photographs of the war effort.
After retiring from a decades-long career as a manager for Sonoco Products Company, Ernest Welch formalized his study of photography by enrolling in Georgia State's art school in his late 80s; he earned a bachelor of fine arts in photography from the university in 1999. Welch's specialty was platinum palladium prints—a process also used by pioneering photographers Irving Penn, Paul Strand, Alfred Stieglitz and Edward Weston.
He continued his self-education when he took up digital photography at 102. Welch became a generous benefactor to the GSU art school, and it was named in honor of his generosity and passion in 2003. Welch passed away in late 2009 at age 103, he attributed his longevity to his mother, who also lived to be 103 and staying busy with lifelong learning.
World War II
The pages from Ernest G. Welch's photographic scrapbook, document his service as an officer during World War II in Western Europe, 1944-1945. Welch came in right after the allied invasion on Omaha beach, the seventh of a series of Normandy invasions called American Forces in Action. His scrapbook is a visual illustration of that time in which Normandy, France was being finally liberated after Nazi occupation. The page's document life during postwar France, the devastation and chronicles not only of Welch but also his fellow service men, the cityscapes, countryside and some of the French inhabitants he came across trying to get back to normalcy. Technique and an artistic eye is seen through the works of Ernest Welch. Also a sense of irony, with the photo of "for freedom" wrapped in barbed wire.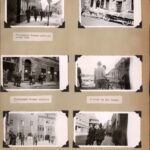 Travels and Landscapes
Welch's deep interest in photography eventually took him across the globe—from capturing images of wildlife in Africa to studying under the renowned photographer Ansel Adams.