Personal Perspectives
David Lennox
David Lennox was born in 1920 and grew up in Peachtree Hills area of Atlanta, attending North Fulton High. Often he would drive his 1938 Ford throughout the Southeast visiting as far as the Florida Keys and up the Smokey Mountains taking pictures avidly of what he saw along the way. Later he became an engineer at Atlantic Steel, like his father before him. His love of photography shows his inquisitive nature and sense of fun and adventure.
Artistic and at times daring, young David Lennox captures his friends with high speed film aperture as they jump into the quarries pool to create an almost surreal feeling of a subterranean world within the Tate marble quarry.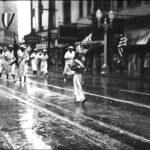 Lofty and New Perspective
David Lennox often climbed great heights up radio towers, telephone poles and buildings to get a lofty perspective on his surroundings.
What is striking about David Lennox's photographs are the stories they tell about everyday life and his take on the world around him. There is a timeless quality that shows his inquisitive nature, as if you could join him on his adventures despite the passage of decades.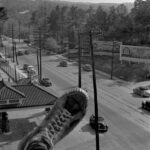 1940s Spyware
Lennox had, at the time, an illegal police radio so that he could track events such as President FDR's visit and accidents of various kinds before anyone else knew about them.
Below are images of the wreckage from Eastern Airlines Flight 21, Morrow, Georgia, February 26, 1941. Eastern plane crash in Morrow, Georgia out of the 25 passengers 16 died and 9 survived, including World War I, flying ace Eddie Rickenbacker.