Henry Mancini
Henry Mancini was born on April 16, 1924 in New York, New York. Mancini was a recording artist, composer, and conductor that collaborated with Johnny Mercer many times throughout the years. Together, Mancini and Mercer produced songs that saw great commercial success. During his career, Mancini won twenty Grammy Awards and four Oscars, including two with Mercer for "Moon River" and "Days of Wine and Roses." The Mercer and Mancini families remained close even after Johnny Mercer's death in 1976. Ginny Mancini, Henry's wife, was on the board of the Johnny Mercer Foundation. Henry Mancini died on June 14, 1994.
"Charade" was released in 1963 in the film of the same name and was nominated for an Academy Award for Best Song of 1963. "The Sweetheart Tree" was featured in the 1965 film The Great Race. The song was nominated for an Academy Award but
lost to "The Shadow of Your Smile" from The Sandpiper.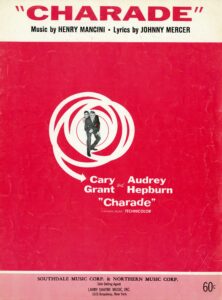 ---
"Moon River" is arguably Johnny Mercer's most well-known song, gaining critical acclaim and vast commercial success from the 1961 film Breakfast At Tiffany's. The song won both an Academy Award and a Grammy Award for Best Song that year. During the writing process, Henry Mancini provided Johnny Mercer with a melody and Mercer came back with three sets of lyrics. He ended up changing aspects of the tune because he felt that his friends already had similar song titles.
"Days of Wine and Roses" was featured in the 1962 film Days of Wine and Roses. This classic tune won the
Academy Award for Best Song of 1962 and a Grammy Award for
Song of the Year in 1963. Henry Mancini was not excited to write the song, but director Blake Edwards wanted a song from the duo after the success of "Moon River".
Other songs by Johnny Mercer and Henry Mancini include:
"Joanna"
"Cream Puff"
"Man's Favorite Sport"
"It Had Better Be Tonight (Meglio Stasera)"
"He Shouldn't-A, Hadn't-A, Oughtn't-A Swang On Me!"
"Phone Call to the Past"
"Whistling Away the Dark"
"Darling Lili"
And others!