Theater: 1930 to 1959
1930s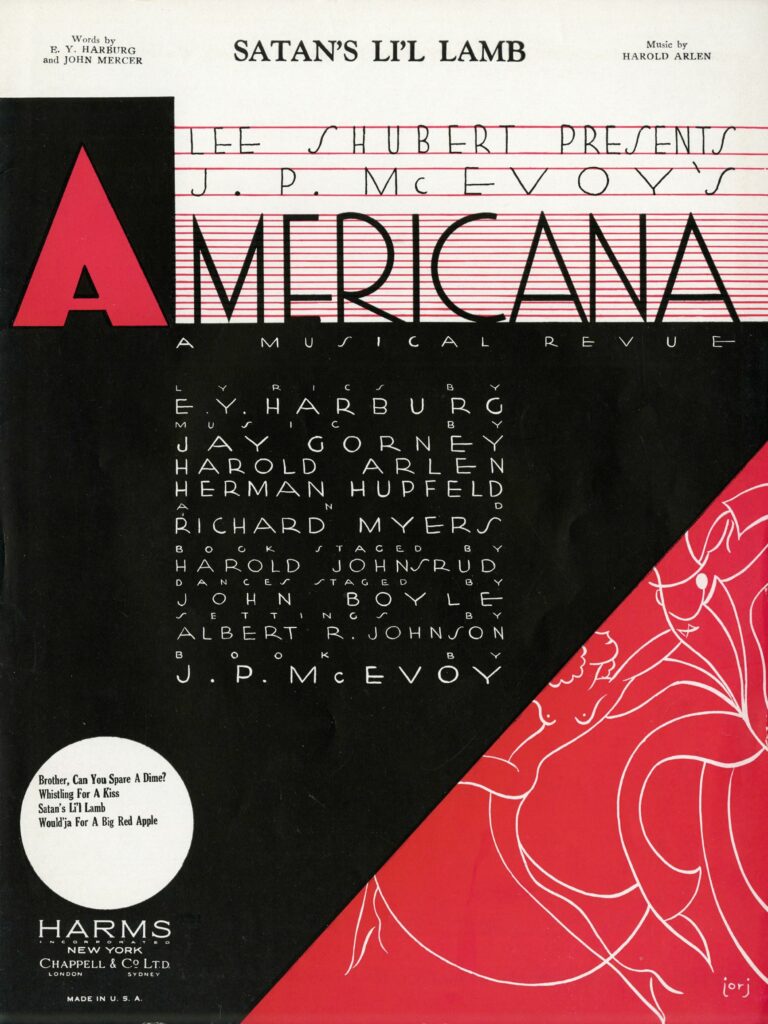 Americana
Americana was a 1932 theater production that ran in New York City for 77 performances. It featured music by Jay Gorney, Harold Arlen, Richard Myers, Burton Lane, Vernon Duke, Henry Souvaine, and Herman Hupfeld with lyrics by E.Y. Harburg and Johnny Mercer. The cast included George Givot, Albert Carroll, Don Barclay, Gordon Smith, Rex Weber, Ralph Locke, Lillian Fitzgerald, Francetta Malloy, and Peggy Cartwright.
Americana was the first time that Johnny Mercer worked with Harold Arlen.
Lew Leslie's Blackbirds of 1936 and 1939
These were theater productions that ran in 1936 in England and 1939 in New York. They featured music by Rube Bloom and lyrics by Johnny Mercer, and they starred Lavaida Carter, Lucille Watson, Harold and Fayard Nicholas, Maude Russell, Emmett Wallace, and Emery Smith.
Blackbirds of 1936 ran for 124 performances at the Gaiety Theatre. Blackbirds of 1939 ran for 9 performances at the Hudson Theatre and included two of the Bloom/Mercer songs from the 1936 production. Shortly after the opening of the 1936 production, Mercer left New York for Hollywood and a contract with Warner Bros.
1940s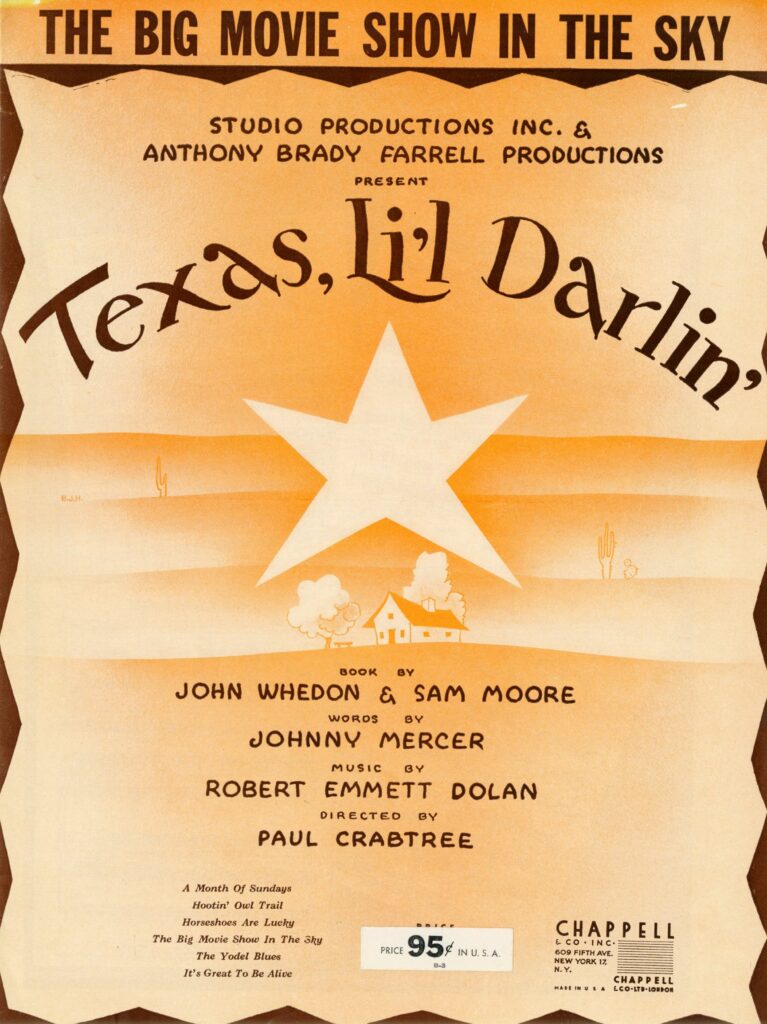 St. Louis Woman
St. Louis Woman was a 1946 theater production in the United States that ran for 113 performances. The musical tells the story of a successful African American jockey who falls for the girlfriend of an abusive bar owner in early 20th century St. Louis. The production's music is by Harold Arlen with lyrics by Johnny Mercer. The cast included Harold Nicholas, Fayard Nicholas, Pearl Bailey, Rex Ingram, Ruby Hill, June Hawkins, and Juanita Hall.
The production suffered several setbacks, including protests and publicity issues. The N.A.A.C.P. criticized the musical for being offensive to people of color. This lead to Lena Horne dropping out as the lead. When the show finally opened, protestors demonstrated outside which negatively impacted ticket sales.
Texas Li'l Darlin'
Texas Li'l Darlin' was a theater production that ran from 1949-1950. It featured music by Robert Emmett Dolan with lyrics by Johnny Mercer. The cast included Loring Smith, Fredd Wayne, Kenny Delmar, Betty Lou Keim, and Mary Hatcher. It was not successful and ended up losing $150,000. In the musical, an Air Force veteran falls for the daughter of the man he is running against for the Texas senate.
1950s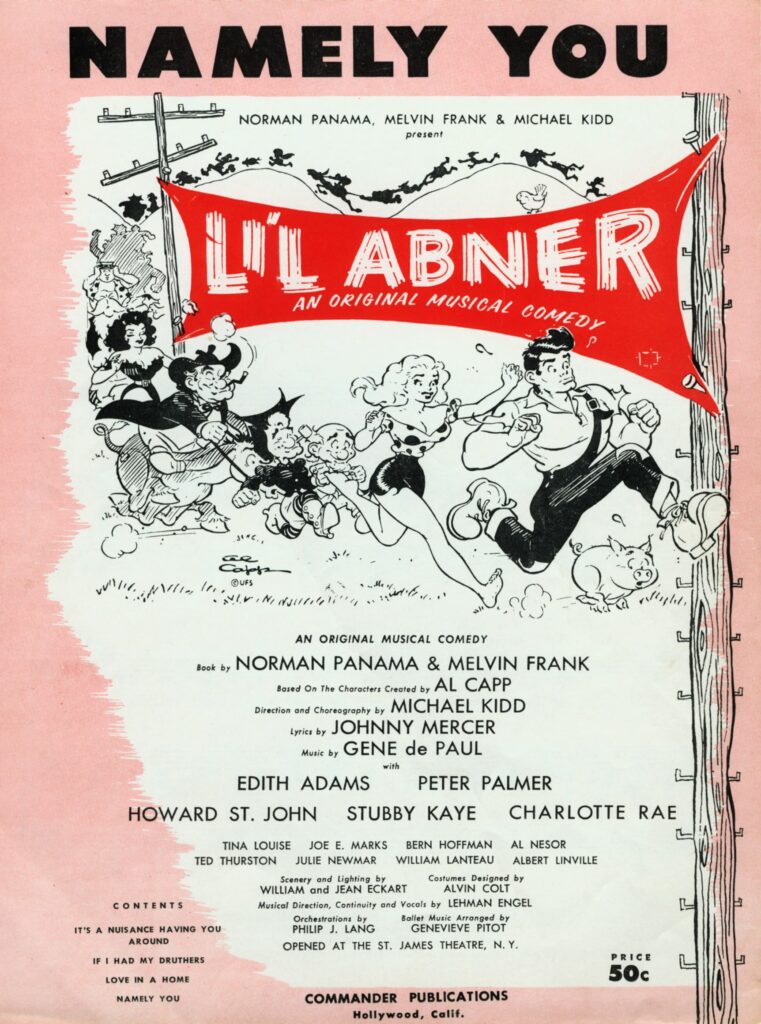 Li'l Abner
Li'l Abner was a theater production that ran from 1956-1958. It included music by Gene de Paul with lyrics by Johnny Mercer. Based on the comic strip Li'l Abner by Al Capp, the musical follows the residents of Dogpatch, USA. Daisy Mae pines after Li'l Abner, who doesn't realize how he feels about Daisy Mae until Dogtown becomes an atomic test site. Li'l Abner travels to Washington, D.C. to save the day.
This was Johnny Mercer's longest running musical, with 693 performances, and arguably his biggest success in the theater world. The cast included Peter Palmer, Edith Adams, Stubby Kaye, Charlotte Rae, Tina Louise, Joe E. Marks, and Bern Hoffman.
Saratoga
Saratoga was a theater production that ran from November to December in 1959 and had 80 total performances. Based on Edna Ferber's novel Saratoga Trunk, the musical follows Clio Dulaine, who is a Creole woman seeking revenge on a New Orleans family that exiled her mother for getting pregnant out of wedlock. She works with Clint Maroon, a cowboy from Montana, and the two end up falling in love while making plans to settle old scores.
It featured music by Harold Arlen with lyrics by Johnny Mercer, and it starred Howard Keel, Carol Lawrence, Odette Myrtil, Ware Donovan, and Carol Brice. This project was not popular with critics and Mercer himself even expressed his displeasure, saying he thought this work was the poorest he'd ever done.
Top Banana
Top Banana was a theater production that had both music and lyrics written by Johnny Mercer. The musical follows the story of television star Biffle, who hires Sally Peters and helps her pursue a relationship with Cliff Lane even though he has fallen in love with her. The production debuted at the Winter Garden Theatre in New York in November 1951 and ran until 1953. The cast included Phil Shivers, Rose Marie, Jack Albertson, Bob Scheerer, Lindy Doherty, Herbie Faye, and Joey Faye.