Theater: 1960 to 1979
1960s
Foxy
Foxy was a musical theatre production that ran in 1962 and 1964. It follows the shenanigans of Jim Fox and Doc Mosk in the Yukon during the gold rush of 1898 as they try to get their stolen wealth back from three friends.
The music was composed by Robert Emmett Dolan with lyrics written by Johnny Mercer. Mercer himself said that it was a mostly negative experience and that he wished he had saved himself the headache.
Mike (unpublished)
Mike is a 1967 musical about a detective named Mike Hammer that was never produced. The lyrics were written by Johnny Mercer. It is assumed that the music was composed by Mercer, but it did not survive. The unpublished materials, such as the examples shown on the right, are housed at Georgia State University's Special Collections and Archives in Atlanta, Georgia. More information can be found here.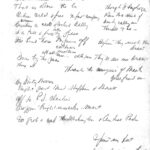 1970s
The Good Companions
The Good Companions was a 1974 theatre production in London, England that ran for 252 performances. The production featured music by Andre Previn with lyrics by Johnny Mercer. The plot follows a group of entertainers in England and the ups and downs that their group faces. It starred John Mills, Judi Dench, Christopher Gable, Marti Webb, Ray C. Davis, and Hope Jackman.