Other Collaborators
Harry Warren
Harry Warren, born Salvatore Guaragna on December 24, 1893 in Brooklyn, New York, wrote several of the best-known movie songs of the 1930s, 1940s, and 1950s. He often collaborated with Mack Gordon, Al Dubin, and, of course, Johnny Mercer. Warren won three Academy Awards. He died on September 22, 1981.
"On the Atchison, Topeka & the Santa Fe" was featured in the 1945 Metro-Goldwyn-Mayer film The Harvey Girls. Johnny Mercer said that it took him about an hour to write this song, which was inspired by a railroad boxcar that said "The Atchison, Topeka and the Santa Fe." Additional lyrics for this song were provided by Kay Thompson and Ralph Blane. The song won Johnny Mercer his first Academy Award.
Other songs by Johnny Mercer and Harry Warren include:
"For Lovers Only"
"It's a Night in a Million"
"Night Over Shanghai"
"If You Can Take It"
"Our Hearts Will Never Grow Old"
"Waltz of the Flowers"
And more!
Jerome Kern
Jerome Kern, born on January 27, 1885 in New York City, New York, was one of the most significant composers in Hollywood and on Broadway in the first half of the twentieth century. He worked with many songwriters, including Johnny Mercer, to create some of the most popular music during this time period.
The soundtrack from the 1942 Columbia Pictures film "You Were Never Lovelier" included "Dearly Beloved," "You Were Never Lovelier," and "I'm Old Fashioned." Jerome Kern did the music and Johnny Mercer wrote the lyrics for the songs. "Dearly Beloved" was nominated for an Academy Award but lost to Irving Berlin's "White Christmas." The tune became a major hit for one of the film's stars, Fred Astaire. "You Were Never Lovelier" was recorded by Fred Astaire on Decca Records and later by Vaughn Monroe and Paul Whiteman and His Orchestra. "I'm Old Fashioned"was another popular song from the film. Mercer said that when he came up with the lyrics to this song, Jerome Kern was so excited that he jumped up and hugged him.
Other songs by Johnny Mercer and Jerome Kern include "Windmill Under the Stars," "Two Hearts are Better Than One," "Hang On to Your Lids, Kids (Here We Go Again)," and "Barrel-House Beguine."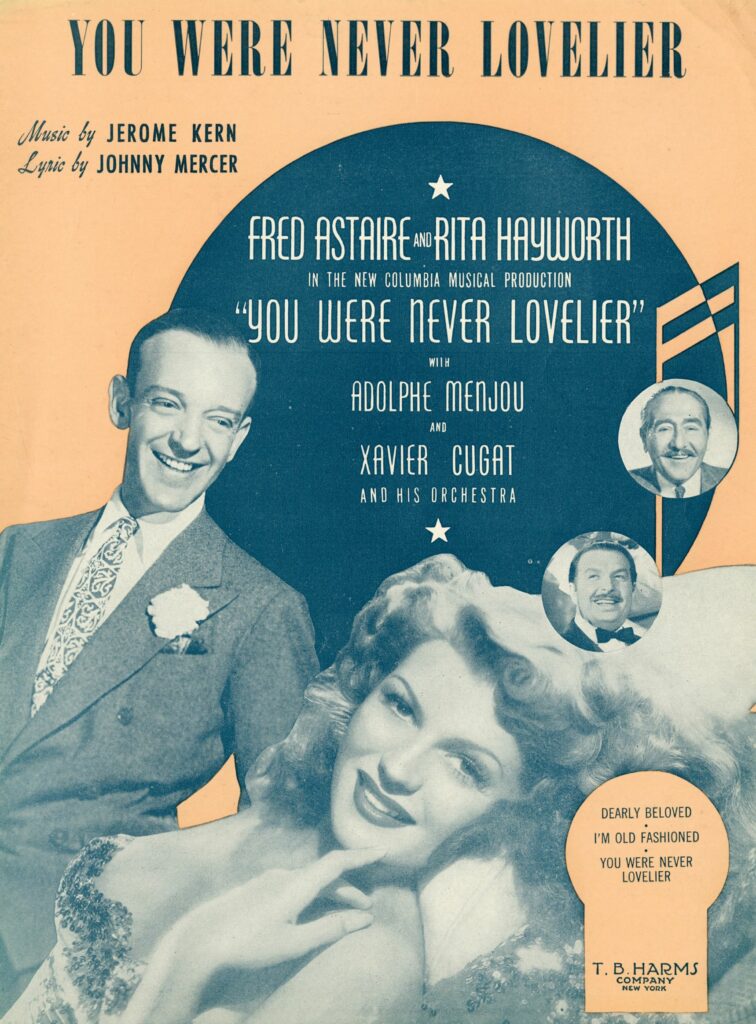 John Williams
John Williams was born on February 8, 1932 in Floral Park, Long Island, New York. He is one of the most famous American movie composers in history and has composed music for blockbuster films such as Star Wars, Jaws, and Indiana Jones. He worked with Johnny Mercer on two projects, the 1966 Warner Bros. film  Not With My Wife, You Don't! and the 1973 Lion's Gate film The Long Goodbye. "The Long Goodbye" was the theme song for the film of the same name. "A Big Beautiful Ball" was written for the 1966 film Not With My Wife, You Don't!, one of three songs that Johnny Mercer worked on for the film.