Movies: 1960 to 1979
1960s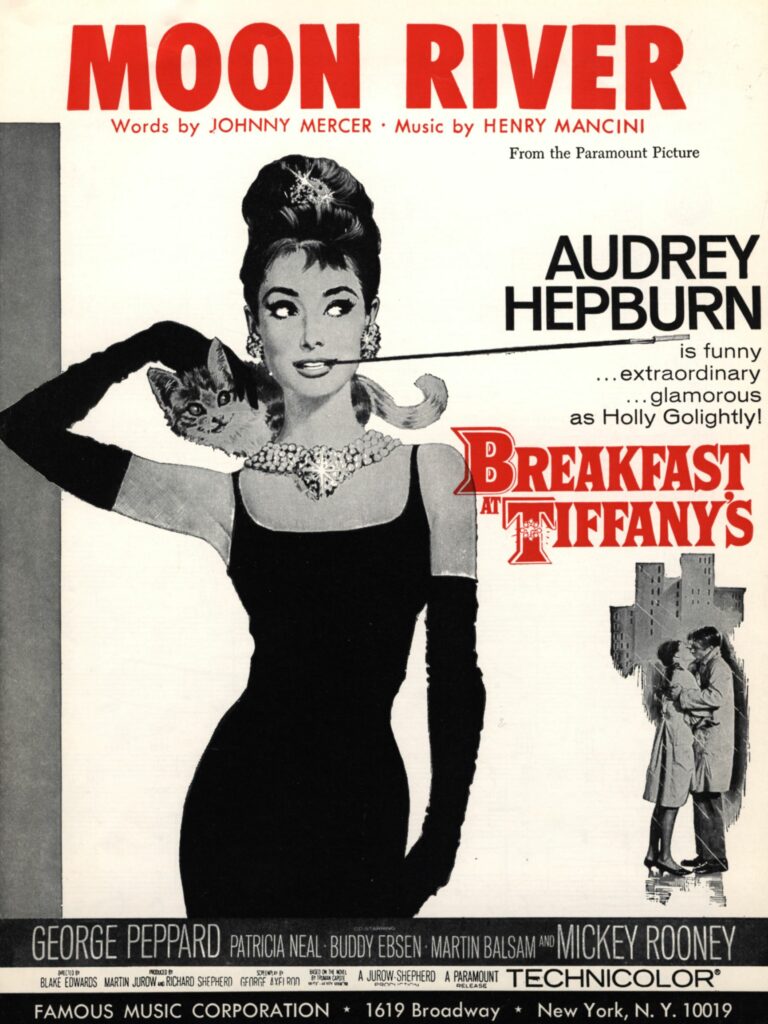 Breakfast at Tiffany's
Released in October of 1961, this Paramount Pictures film has music by Henry Mancini and lyrics by Johnny Mercer. It is about a New York writer with an interesting neighbor named Holly Golightly. The cast included Audrey Hepburn, George Peppard, Patricia Neal, Buddy Ebsen, Martin Balsam, and Jose Luis de Villalonga.
"Moon River" is Mercer's biggest hit, winning him and Henry Mancini an Academy Award and a Grammy Award. Johnny originally titled the song "Blue River" but changed it after looking through ASCAP and seeing that there were already a few songs with similar titles.
Days of Wine and Roses
This 1962 Warner Bros. film follows a married couple struggling with alcoholism. The music and music score were done by Henry Mancini with lyrics by Johnny Mercer. The cast includes Jack Lemmon, Lee Remick, and Charles Bickford. "Days of Wine and Roses" won Mercer and Mancini their second Academy Award and Grammy Award together.
The Pink Panther
A 1964 Mirisch-G-E Productions film featuring music by Henry Mancini, The Pink Panther follows the misadventures of French Police Inspector Clouseau as he chases a jewel thief. Johnny Mercer wrote the English lyrics for the song "It Had Better Be Tonight," though his lyrics were not used in the film. The Italian lyrics were written by Franco Migliacci.
Not With My Wife, You Don't!
Not With My Wife, You Don't! is a Warner Bros. film that was released in November of 1966. It features music and a musical score by John Williams with lyrics by Johnny Mercer. The film follows an Italian nurse who falls in love during the Korean War. It starred Tony Curtis, Virna Lisi, George C. Scott, Carroll O'Connor, and Richard Eastham.
1970s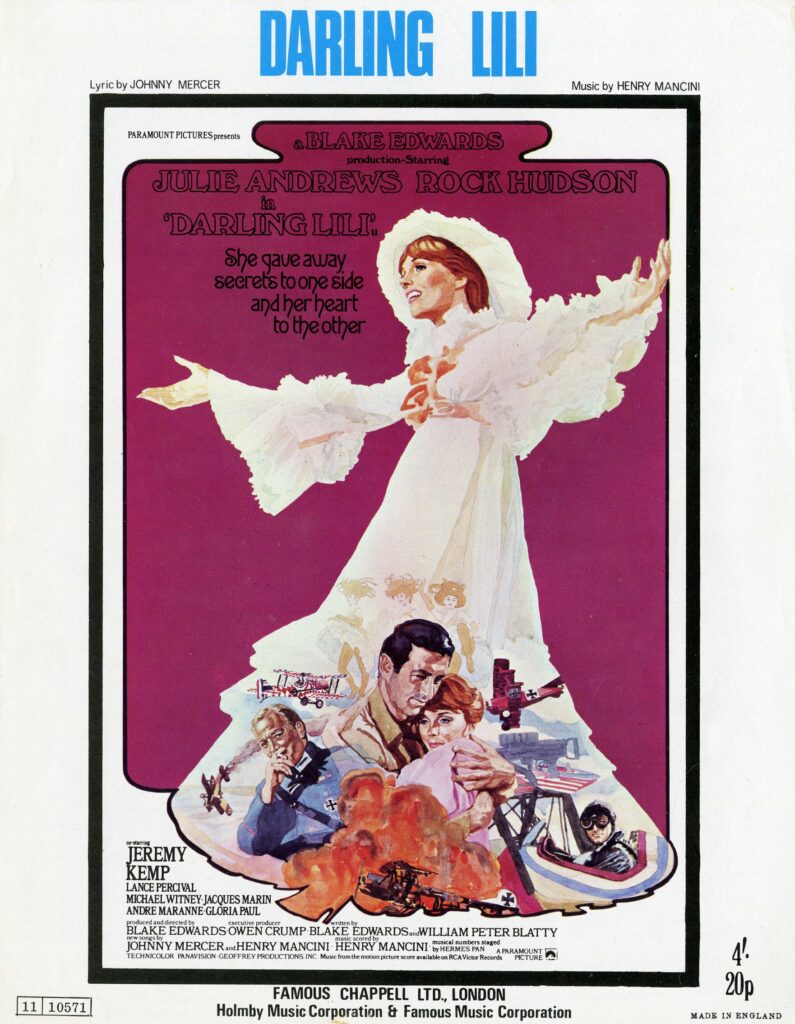 Darling Lili
A 1970 Paramount Pictures film about an American pilot during World War II, Darling Lili featured a music score by Henry Mancini and songs with music and lyrics by Johnny Mercer and Henry Mancini. It starred Julie Andrews, Rock Hudson, Jeremy Kemp, Lance Percival, Michael Witney, and Gloria Paul.
The Long Goodbye
The Long Goodbye is a Lion's Gate film that was released in March of 1973. The film features music by John Williams and lyrics by Johnny Mercer. It is about a man named Philip Marlowe who tries to help a friend that has been accused of murdering his wife. The cast included Elliot Gould, Nina Van Pallandt, Sterling Hayden, Mark Rydell, and Henry Gibson.