Shows and Films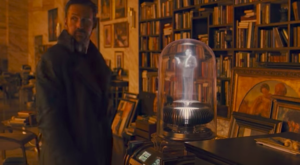 Mercer's Music in Television Shows and Films
Johnny Mercer got his start by writing songs for theater and films, so it is not surprising that his songs are still featured as the background music to today's most popular films and television programs. Mercer's songs have been featured recently in the film Blade Runner 2049 (2017), which features a Frank Sinatra hologram singing a Mercer song in the film. His music has also been used in Deadpool 2 (2018), Jeepers Creepers (2001), Elizabethtown (2005), Minority Report (2002), You've Got Mail (1998), Friday the 13th: Final Chapter (1984), Men in Black 3 (2012), and many others. Whether it's a romantic comedy or a horror film or an action movie, Johnny Mercer's songwriting adds another important layer to the project.
Popular television shows that have used Mercer's music include several episodes of The Simpsons, Dancing with the Stars, The Flash, New Girl, Glee and American Idol. Other shows that feature Mercer songs include Futurama, Night Court, Star Trek, The Muppet Show (one episode includes the Muppets performing "That Old Black Magic") and Mork and Mindy.
Mercer's music has even been included in video games such as Fallout 4, Fallout Las Vegas, and Bayonetta 2.