Bookstores
Bookstores catering to the LGBTQ+ communities provided a welcoming space, merchandise that was clearly selected for the communities they served, and programming that was relevant to the lives of the patrons. While some bookstores thrived, others fared less well.
Charis Books and More
Linda Bryant opened Charis Books in 1974. It was the first feminist bookstore in the Southeast. Located in Little Five Points, the store became a meeting, reading and purchasing space for the many lesbians who lived in the area. As online sales affected sales affected in-store sales, owner Bryant looked for ways to remain open, and in mid 1990's, a non-profit arm of the store was established – Charis Circle – to take responsibility for managing events. In early 2019, Charis Books and More moved right next to the Agnes Scott College campus.
"It would be hard to overestimate Charis' role in creating and nurturing community here, and putting structures into place. Charis Circle does unbelievable programming, not only bringing in authors to talk about their work, but bringing in people to have a dialogue."
Maria Helena Dolan, October 22, 2018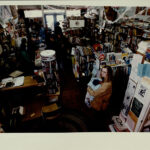 Down Under and After Dark
In 1980, two gay bookstores – Down Under and After Dark were destroyed. According to Atlanta Journal Constitution records, Down Under, located at 45 8th Street NE was destroyed by an explosion on April 28, 1980, and on August 24, After Dark, at 12th and Peachtree, fell victim to arson.
"I remember walking down Cypress Street one afternoon, and Down Under was in pieces lying in the street. It had been blown up. Somebody blew it up. And of course, that also happened to the After Dark that was the gay male bookstore. That was destroyed in an act of arson."
Dave Hayward, October 22, 2018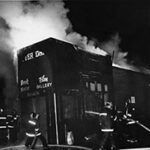 Christopher's Kind Bookstore
In June 1980, Gene Loring opened Christopher's Kind, a gay bookstore, located at 70 13th Street, NE, in Atlanta's Midtown. The store's doors closed in 1986. During the store's lifetime, Loring experienced discrimination as well as legal challenges from authorities. In 1983, the local Yellow Pages refused to use the words, "gay" or "lesbian" in the store's advertising. For this, Loring sued Southern Bell. Further, the Georgia Bureau of Investigation prosecuted one of the store's employees – Charlie St. John – for selling obscene materials.
"Charlie St. John started working at Christopher's Kind, a gay bookstore run by Gene Loring and his lover Hal. Charlie ordered books, put things back, and manned the cash register. Charlie was there when the store was busted for pornography. He was arrested and charged with distributing pornography. Gene made his bond and he went back to the store. Ron Saylor, who was trying to make a name for himself in the media, came to the store with a little film crew, and he was going to confront Charlie about pornography. Charlie said, "What is wrong with you? Why are you here?" They began to argue. Saylor had these papers and he's waving these papers, and Charlie grabs the papers. And that blew everything up. So he's arrested for pornography and assault. It was very tough on him. The assault charge was dropped, but distributing pornography was still over him. I think it went down to a misdemeanor and Gene paid the fine. Charlie left Atlanta."
Maria Helena Dolan, August 14, 2019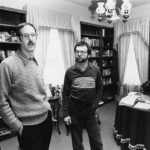 Outwrite Bookstore and Coffeehouse
Philip Rafshoon opened Outwrite Bookstore on November 5,1993 on Midtown Promenade. In 1996, he moved to 10th and Piedmont, right in the heart of Atlanta's most visibly gay neighborhood. Outwrite offered books, coffee and refreshments, and a wide variety of programing, including readings, discussions, and fundraisers. As communities increasingly found themselves connecting online, fewer people used the store as their meeting space, which led to financial difficulties. In 2012, the store closed.