ACT UP
Aids Coalition to Unleash Power (ACT UP) was formed in New York City in March 1987 by writer and producer Larry Kramer. Members of ACT UP took a radical, direct action approach, using civil disobedience as one of its primary tools.
January 1990: ACT UP Protests at the Georgia State Capital and CDC
On January 8, 1990, as part of a two-day protest, national and local ACT UP members led a demonstration at the Georgia Capitol and Woodruff Park.
"We ended up with about 300-350 people. We started with a march where we had a brass bed that we took to the steps of the Capitol. We marched from Woodruff Park. We had signs, we had incredibly obscene chants that we chanted going down the street. It was the first time that I got arrested committing civil disobedience. We were just dressed in pajamas, and lay down in the middle of the street to be dragged off by the cops."
Jeff Graham, September 25, 2014
The following day, activists took part in a die-in at the Centers for Disease Control.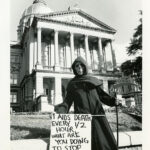 ACT UP Protest at CDC
On December 3, 1990, members of ACT UP Atlanta joined with affiliates from other cities to hold a protest at the CDC.
"[We were] looking at the fact that the definition of AIDS did not actually encompass some of the realities of people living with HIV. So, [we made] two demands. One was adding a T-cell count to the definition of AIDS. The other one was adding a handful of gynecological manifestations that were very specific to women, into the definition of AIDS. The reason that this was so critical was that you had to have that AIDS definition before you could qualify for any sort of government assistance. The definition itself was not just an academic exercise, it was really life and death for a lot of people."
Jeff Graham, September 25, 2014