Pride
Organized by Georgia's Gay Liberation Front, Atlanta's first Pride march took place on June 27, 1971.
"We tried to get a permit from the ACLU. They turned us down flat: we weren't a minority, they said, and they couldn't help us. And the city also refused a permit. So we had to have our march down the sidewalks and stop at every light, unless we had the green light, of course. We had, by actual count, 125 people. And I do know that because I was the marshal and counted them myself – twice!"
Berl Boykin, From Stonewall to the Millennium Panel, June 2000
"There was a bunch of us just running downtown. Maria Dolan was in a wheelchair for some reason, and we were all dressed as aliens. And we said, "We deserve our rights." (laughter) It was so stupid, but we had so much fun. We're pushing a wheelchair, and she's going, "Faster! Faster!" Yeah, I loved those early marches. Now they're like corporate, corporate, corporate."
Stephanie Miller, December 11, 2015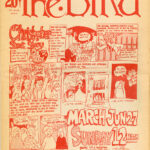 Pride Expands
In 1983, the first Dyke March was held during Pride weekend. Today, Pride celebrations also include a Trans March, and a Bi and Pan March (held for the first time in 2019).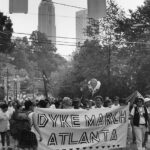 Black Pride
Atlanta Black Pride was formed in 1996. Held over Labor Day weekend, it continues to be one of the largest black pride celebrations in the world.
"Pride Celebration wasn't doing anything for the African-American people: it looked lily white. People of color needed to connect with other people of color to understand that our issues weren't the same as everyone else's issues. People think Pride is all about a party. But it's also about recognizing where you came from, what you need to be proud about, and who in your community or in the world is making accomplishments for people who look like you and talk like you."
Rickie Smith, March 10, 2017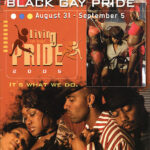 Southern Fried Queer Pride
Established in 2014, Southern Fried Queer Pride (SFQP) emerged to address the needs of Atlanta-based queer and trans individuals who felt that they were not being represented at the traditional Pride festivals. "SFQP is arts and politically based and serves to provide an annual intersectional and radically inclusive festival."