Community Centers
The Atlanta Gay Center
The Atlanta Gay Center was founded informally in 1976. For approximately nine months, it functioned in an office owned by Bill Smith, and provided a help line and a community meeting place. The Atlanta Coalition for Human Rights opened a more formal iteration of the Gay Center in Midtown in February 1979. It provided a help line, various health, legal and social services, as well as publishing the bi-weekly Gay Center News (1984). The Gay Center moved a number of times throughout its existence and it eventually closed during the mid-2000s.
"There was the Gay center, which was on 4th street or 6th street, over by Spring that we started. Bill Smith was a really great person. He had a newspaper called The Barb. It was run out of a house on Peachtree Place – Williams Street, West Peachtree on the very corner. The newspaper didn't make much money, so he started running an escort service called Young Men in Atlanta. And he had rented a house on 4th Street, maybe 6th Street, just west of the Biltmore, and he let us have a floor in there for the Gay Center. We would have weekly meetings. All sorts of things were going on. That sort of collapsed. There was this older guy who came in and took over. There was a disagreement and he took it upon himself to change all the locks. So that was the end of that gay center. Another one started up later on, that was doing basically the same thing. It grew, it flourished for quite a number of years."
Gil Robison, March 17, 2016
"I learned about the Atlanta Gay Center and I started going there. It was a safe place with people like me, and they had a library with books that I could read about gay subjects and gay sexuality and gay sex. Just about everything. They were so kind to me, and they took me under their wing. I did a little bit of volunteering there: not a lot – I was a kid. But a lot of my life began to center around the gay center, as I started having more friends who were gay. That just changed everything. All of a sudden, I wasn't alone. I started seeing the power that people could have as a group, when they put their minds to something and were vocal and unashamed of who they were and what they were fighting for."
Andrew Wood, June 24, 2014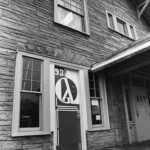 The Rush Center
Named for gay advocate and philanthropist, Philip Rush, the Rush Center opened in the fall of 2008 . Initial funding was provided by the Lloyd Russell Foundation, the Atlanta Gay and Lesbian Fund, and support from many individual donors. The Center serves as a gathering place for LGBT+ and other progressive organizations, and it's mission is "to promote community through a multi-tenant, mixed use facility that models community in its design and practice. Bby providing long-term and short-term affordable rental space, the Rush Center brings together LGBTQ+ and allied non-profits together under one roof, leveraging their unique strengths."
"When I left the AIDS world and my co-conspirator Paul Plate, I luckily found another one who's probably even crazier than Paul is, and that's Linda Ellis with the Health Initiative. She immediately was able to share in my thoughts of, "Hey, let's share offices, and by the way, let's open up our offices and let other groups come here and meet, and let's see where this might take us." I can be caretaker to let other people explore their dreams and their passions in a space that's safe for them, where they don't have to worry so much about how are we going to pay the bills and keep the lights on. Is it going to be safe and secure? Linda and I for the most part take care of that so that people can just focus on doing the work that they need to do in building in their own communities."
Jeff Graham, September 25, 2014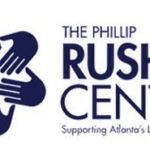 The Center for Civil and Human Rights
Established in 2007, the Center for Civil and Human Rights has provided a rallying spot for progressive protests and celebrations. Its LGBTQ Institute has encouraged community engagement by hosting events and symposiums. On June 26, 2015, when the federal government declared same-sex marriage legal, large crowds gathered at the Center to celebrate.