Friends Helping Friends
"At the time, the Gay Center was doing anonymous HIV testing. You went in, and you gave blood, and they gave you a code, and then you went back two weeks later for your test results. I go back in and sure enough, I'm HIV positive. I think it was sort of a relief knowing that. There was a moment of, "Oh my God," but also, "OK, now I know." They offered some gay-friendly doctors in town, and they talked a little bit about what it meant."
David Garner, May 6, 2019
"In the beginning, you would go into a hospital, and the medical staff would be in hazmat suits. The person would be isolated, and nobody would want to come into their room. Of course, they were in awful shape, because there was no treatment. It was terrible. There was a big wave of dying — it seemed like the dying would come in waves. It's interesting that there was an international AIDS conference that would happen. We would all be waiting with — they're going to have a breakthrough. They're going to find out something this year. There will be an announcement. And then when there wasn't, a bunch of people would die. That just happened almost on an annual basis, until the protease inhibitors were discovered."
Franklin Abbott, September 30, 2011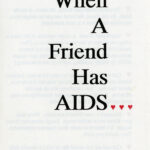 Support Organizations
AID Atlanta was established in 1982. Other organizations grew to provide practical, legal, financial and medical support to people living with AIDS. Groups also raised monies by walking, performing, playing sports, and creating art.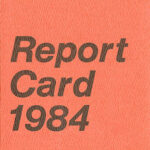 Jerusalem House
Jerusalem House is Atlanta's oldest and largest HIV/AIDS permanent supportive housing provider, delivering over 70% of the city's permanent supportive housing for homeless and low-income individuals and families affected by HIV/AIDS.
"Jerusalem House is the hospice for people with AIDS in Druid Hills. When they decided that they needed this facility, there was an incredible amount of pushback from the neighborhood. A woman who lived on the street behind where this facility would be built organized a campaign in her neighborhood, saying, "People with AIDS are going to be hiding in the bushes with needles and they're going to be raping your children." So the people who were trying to get Jerusalem House going came to us [ACT UP] and said, "Can you help us?" We organized an information campaign and a petition drive, and we got the help of the mailmen in who were carrying petitions and knocking on the doors of the people they were delivering mail to. We canvassed heavily, and went door-to-door, educating people on HIV/AIDS, and what not to be afraid of and how you did not get it.
All of the work for Jerusalem House came to a head with a hearing at City Council. One of our members, who was a librarian at a law firm: she went up to talk. She lived in the building that they were going to use to make this hospice. She said, "I hear all these people talking about how this is going to affect their homes in such a negative way. Well, I live in the building where this is going to be. I'm going to lose my home because of this, and I can't think of a better reason than for this worthy cause to give up my home." The chambers erupted into wild applause, and the owner who was leading the fight against it realized at that moment that she had lost. The Council approved their application to build the hospice there. As we know, it has not affected property values."
Andrew Wood, June 24, 2014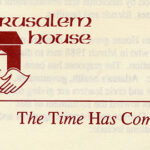 Fund Raising for Friends
"When AIDS broke out in Atlanta, several kids got it. They couldn't go home for Christmas. I started Christmas for PWAs (People with AIDS) through AID Atlanta. Me and the entertainers in Atlanta, we held benefits in every club in the city. There was a lot of clubs. We would take jars into a club, and let the management know that we were there to collect for Christmas for PWAs. We would walk through and collect the money and go to the office, give it to the management. They would untape it, count the money and give me a receipt. And then the first of December, we'd have a big huge benefit at Backstreet. And all the club owners and managers would come in and they'd bring a check for the amount that we had raised in their club. And we'd raise $10,000, $20,000, $25,000. That money was turned over to AID Atlanta that night. Within two weeks, it was broken down into checks to each PWA in Atlanta, GA. We did that for years until there got to be so many that we couldn't do it any more. We wouldn't raise enough money for them to get anything decent."
Mr. Charlie Brown, March 26, 2019
"We decided to do a basketball game of ACT UP and local drag queens. The Charlie Brown All-stars versus some gay sports league in town. It was going to be benefit for us [ACT UP] and for Project Open Hand. It was to be a celebration of life, and to be a happy event, because there was so much heaviness and death and despair. We opened up with a drag queen singing the Star Spangled Banner. Michael West was the MC: he was very big in gay theater in Atlanta. The mayor of Decatur threw out the first ball. You should have heard the crowd roar and jump to their feet. We had the Marching Abominables doing the half-time entertainment. The American Music Show came and filmed the whole thing. It was all done on a $250.00 budget. I think it opened eyes in the Atlanta AIDS advocacy community about how we can work together and how we were not in this fight alone."
Andrew Wood, June 24, 2014