Publications
In a time before the internet, LGBT+ publications were very important. They provided information about social events and places to go; they let gay communities know what was happening in the world and how that would affect them. Business ads let the community members know which establishments welcomed and supported them, and the classified ads enabled them to make connections with one another.
Pulse
"Pulse magazine was a huge eye-opener to me because it was just different. I'd worked for Cruise, where it was drag, it was naked men…Pulse Magazine really, really, really had a great focus on editorial, information, education, beyond just getting you to the bars. There were some incredible contributing writers. Pulse was where I learned much more about Atlanta's gay sports scene, cause here comes softball; here comes the Dixie Bowling League. We had a volleyball group that played against teams from Amsterdam and Puerto Rico. Gay golfers – hello! The clientele was older. The Pharr Library demanded the back cover."
Gregg Daugherty, June 29, 2018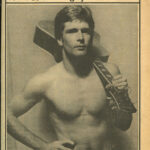 The Barb
"In those days there were counter cultural papers, and they were much more central part of the community than you might think. Three were the bars, the gay churches and the publications. There were glossies like Cruise. They came out of the tradition of guides to entertainment. And the Barb was more political oriented, community oriented. It would have all sorts of stuff, like warnings about bad drugs that were out on the streets, and whatever kind of political issues might be happening that was gay related. The Barb finally went under, like publications do."
Gil Robison, From Stonewall to the Millennium Panel, June 2000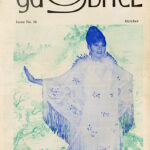 Etcetera
Etcetera Magazine was launched on June 15, 1985 by Pat Coleman, Jaye Evans and Jim Heverly. Before it celebrated its 10th anniversary, it had become the Southeast's largest LGBT+ publication. The magazine served as a bar and events guide, and also included columns and news articles.

"A lot of what I did in my columns first of all was political commentary – you know, "think about this from a feminist lesbian womanist perspective – and also my adventures in the world. Because here's this out dyke: she goes here, and she does this. People put this on their blogs all the time now, but there were no blogs then."
Maria Helena Dolan, October 22, 2018
Guide
"Guide was like Pulse. They were broad, wide open, a lot of information. They really encouraged the intellectual minds. We set up offices at Piedmont and Cheshire Bridge. Guide was strongly the People's magazine. And then I started writing Gadabout, which was about getting out and going. I had a racecar in my logo. I made a mix of it. It was going to shows, it was going to drag shows, it was going to the theater, it was going to dance, it was going to concerts. We had maps, and how to get to a place. This was the days before GPS!
It was the first time where you have a little bit more toward the African American community in Atlanta. Because they created Black Pride right about then, and so we would do whole pieces on that."
Gregg Daugherty, June 29, 2018
Southern Voice
Founded by Christina Cash, and Leigh VanderEls, Southern Voice (SOVO) was originally a project of Southeast Arts and Media Education (SAME). Launched on March 1, 1988, it provided news to LGBT+ communities in Atlanta and the Southeast. It was published bi-weekly, and it's circulation grew from 5,000 at inception to a maximum of 100,000 in the 2000s. Its parent company Window Media collapsed in 2009, resulting in it and a number of other publications closing for business.
Georgia Voice
In March 2010, Georgia Voice was launched by the team behind Southern Voice. As well as continuing to produce the newspaper on a bi-weekly basis, GA Voice also collaborates with the Atlanta Convention and Visitor's Bureau to publish its annual "Destination Gay Atlanta" travel guide.