Environmental Justice Movement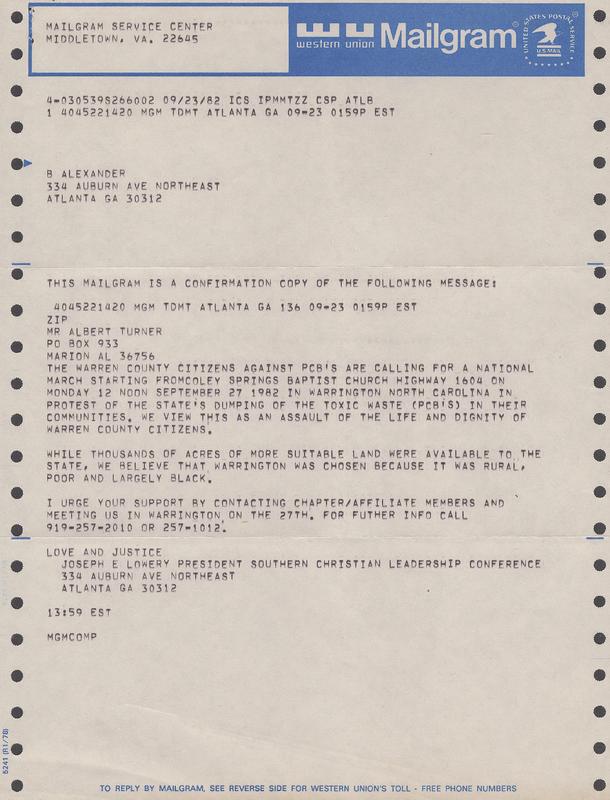 In 1979, citizens of Warren County, North Carolina—primarily poor African Americans—came together to fight a plan by the state to develop a landfill in their community to dump Polychlorinated Biphenyl (PCB), a dangerous industrial chemical. After failing to win a lawsuit filed by the local chapter of the National Association for the Advancement of Colored People (NAACP) to stop the dump in 1982, the community launched a series of protests that gained national momentum. Despite these actions and scientific evidence that the plan would cause drinking water contamination, the Warren County PCB Landfill was built and the toxic waste was placed in the landfill.
Nonetheless, the non-violent protests had lasting impact. Not only did Warren County community actions provide the impetus for a landmark study of hazardous waste landfill siting in minority communities by the federal government, it was also the catalyst for the national environmental justice movement. After nearly two decades of suspected leaks, state and federal sources finally detoxified the PCB-contaminated soil in Warren County.
The first truckload of soil that arrived at the Warren County landfill in September 1982 was met by over 400 protesters. State highway patrols arrested 55 people on the first day, but the protests continued for the next six weeks while the soil arrived. During this time, 523 arrests were made.